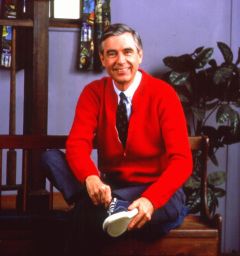 Save Mister Rogers' Neighborhood!
In June 2008, Public Broadcasting Service announced that it intends to soon change the way Mister Rogers' Neighborhood, the beloved children's television program, is distributed to member stations.

PBS will cease transmitting the program as part of their daily syndicated lineup beginning in September. Instead, PBS will provide member stations with a single Neighborhood episode on weekends. This unfortunate decision essentially silences the special nurturing voice of Mister Rogers in the daily lives of today's children.

Local public television stations, who make the final decisions about which programs to offer and when to air them, can still opt to broadcast Mister Rogers' Neighborhood each weekday, but they are less likely to do so without the program being included in PBS's syndicated feed.

We're asking PBS to please reconsider their decision, and allow Mister Rogers' Neighborhood, with its timeless expressions of care for children, to remain a part of their syndicated Monday through Friday schedule.

And we are urging all PBS member stations to do what it takes to ensure that the lives of children in their neighborhoods can still be enriched each weekday by the gentle, authentic, life-shaping messages of Mister Rogers.