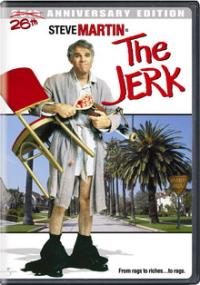 When I was offered a copy of The Jerk 25th 26th Anniversary DVD in return for posting a review, I jumped at the chance. For those of you who don't know, The Jerk is one of my all-time favorite movies, so hearing that a remastered version was being released with some extras was pretty exciting for me.
The main selling point of the new DVD is the fact that the audio and video have been completely restored and remastered in 5.1 surround sound and 1.85:1 anamorphic widescreen (as opposed to the previous release's Dolby 2.0 sound and 1.33:1 full screen). Granted, the movie doesn't really lend itself to the envelopment of a full 5.1 surround sound field, but I could definitely hear a huge improvement in the audio over the earlier DVD release. The video looked a lot better as well, bolstered by the anamorphic widescreen remastering. And of course there's just no comparing the quantum leap in video and audio quality the DVD format offers over VHS.
I was hoping for more extras than were included, but I suppose movies in 1979 just didn't plan on releasing supplementary material like more recent movies do. There is a bonus featurette entitled "The Lost Filmstrips of Father Carlos Las Vegas de Cordova," which is purportedly an extended version of the cat-juggling scene in the movie. However, it appears to be new footage and is only mildly amusing. The other bonus feature is an extended ukulele lesson for the song "You Belong To Me" (the one that Bernadette Peters and Steve Martin sang on the beach), and it too seems out of place (Who has a ukulele lying around?). Your typical theatrical trailer and production notes round out the extras.
Extras aside, I love the movie, and watching it again over the weekend was a blast. This is classic Steve Martin at his wackiest, and I obviously give it two thumbs up. The DVD is available for purchase here. If you are interested in buying it, please use that link so that they'll consider sending me more stuff! 🙂