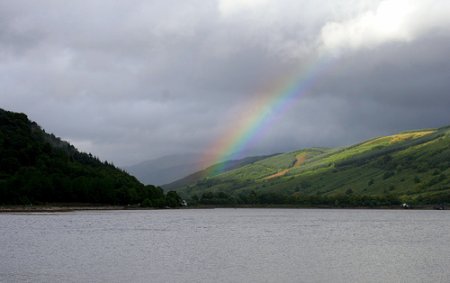 Well, I'm finally making my first post since we returned from our vacation in Scotland. We've been back for two weeks now, but I've been battling a sinus infection that I probably caught on the plane, and I'm just now starting to feel better. I've been collecting plenty of things to post, but I've just been too out of it to do much posting.
Scotland was amazing. We were pretty lucky with the weather, as we only had a couple of days where it rained all day. We got to see a lot, racking up over 1300 miles on the rental car. If there's enough interest, I might post excerpts from the journal we kept of all the interesting things we saw and did.
Of course we took lots of pictures, over 1500 between the two of us. Going through all of those pictures has been slow going, but I think we did really well. Above is a picture from early in our trip that illustrates a typically idyllic scene in Scotland, this one showing a rainbow over the hills near Loch Fyne in the town of Inverary. I've been slowly posting my pictures to a Scotland photo set in flickr. I've only gotten through about a quarter of the pictures we took, so keep an eye on the set as I continue to post more. I'll also be posting Scotland photos to my personal gallery in this folder, which is empty at the moment.
While I was away, flickr added several new features, and I think one of the best is integrated geotagging; FlickrBlog has a nice post introducing this addition with some tutorial links. As a result of this new feature, you can now view maps of geotagged photos for individual users. If you go to my flickr Map, you'll see icons with numbers of photos taken in the US and Scotland. I like the way that as you zoom in, the numbers separate themselves into more distinct areas showing exactly how many pictures you took in each location. The interface for geotagging photos in flickr's Organizr is very easy, and it even imported photos that I had previously geotagged through other third-party solutions. Picasa had previously integrated geotagging of photos with Google Earth, and although Google's maps are much more detailed than those of flickr/Yahoo, I like the map interface in flickr a lot better. It's worth checking out geotagging in both applications, although it kind of sucks that there isn't a definitive way to geotag for both.
I hope that I'll be posting more in the near future; it'll be nice to finally get back into the swing of things…