Tuesday, February 28, 2006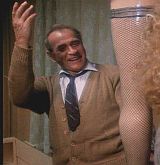 Not only did I miss the death of Don Knotts last week, but I also overlooked that of actor
Darren McGavin, who died
last week at the age of 83 of natural causes.
McGavin
was perhaps best known as a TV actor, starring in the series
Mike Hammer
and
Kolchak
, among others. His film credits included memorable roles in films like
The Natural
and
A Christmas Story
, as seen to the right.
It's sad to see two actors representing some of my fondest childhood memories pass on like this. Here's hoping that bad news doesn't come in threes... :-(
Friday, February 24, 2006
Thursday, February 23, 2006
Thursday, February 16, 2006
Tuesday, February 14, 2006
Monday, February 13, 2006
Saturday, February 11, 2006
Friday, February 10, 2006
Thursday, February 09, 2006
Wednesday, February 08, 2006
Tuesday, February 07, 2006
Monday, February 06, 2006
Saturday, February 04, 2006
Friday, February 03, 2006
Thursday, February 02, 2006
Wednesday, February 01, 2006